Harmonica Workshop

| | |
| --- | --- |
| | April 11, 2020 |
| | 12:00 pm |
| | Suffolk |
| | The Apex |
| | Google Map |
Get Tickets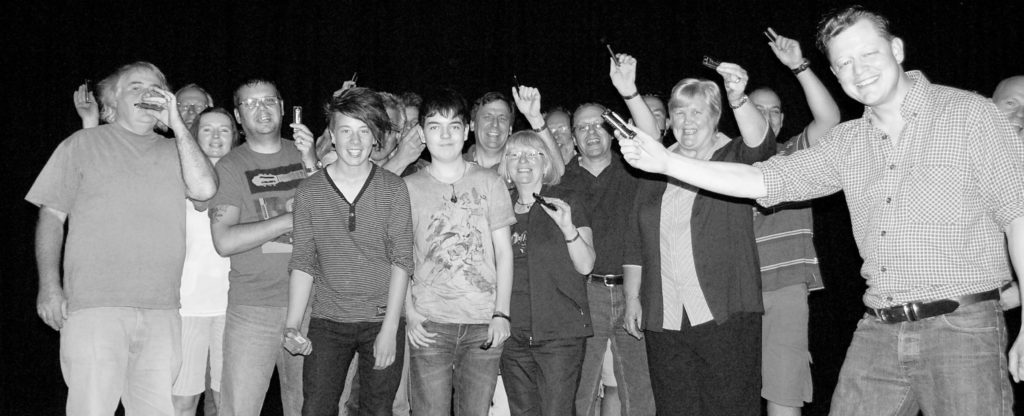 All-New Harmonica Masterclass and Workshop comes to The Apex
Harmonica phenomenon Steve Lockwood has joined forces with the APEX Arts Centre, Bury St Edmunds to put on a workshop for harmonica players of all abilities including complete beginners on the following Saturdays in 2019/20 –
April 11th and the 09th of May  (12:00 – 15:30) cost £30
(more to come in 2020).
Steve isn't just a musician with a world wide reputation, who has played with acts from Larry Adler, Chris Difford (Squeeze) and Screaming Lord Sutch to the Royal Philharmonic Orchestra, and recorded over 80 albums. He's also got a degree in harmonica playing from Anglia Ruskin University , Cambridge and is a fully qualified teacher and lecturer with a PGCE.
The workshop is suitable for all levels of player including complete beginners and will help any harmonica player to improve their blues and pop playing and get the best out of this deceptively humble instrument.
Steve's workshop is a rare opportunity for beginners, improvers and more competent players to gain instruction from a professional musician with 30 years of live performing forming the foundation of his teaching. Technical instruction is combined with hints and tips to make playing more musical and more fun.
Previous workshops all over the UK and abroad have seen great success with first time players and experienced musicians working together to make music and have a great time.
Workshop participants will play new blues rhythms, cool country wails, pitch bend all the way down and jam along with well-known solos. Steve will introduce pop/rock, folk and blues material and cover basic and intermediate techniques for the harmonica. Every workshop is different with new material and no need to read music notation for those who can't read.
Workshop tickets cost £35 and should be booked in advance via the Apex.
The Apex
Charter Square
Bury St Edmunds
IP33 3FD
Box Office: 01284 758000
boxoffice@theapex.co.uk
Get Tickets Online Here
Harmonicas available on the day for £10 at the workshop.
We will try to incorporate anything that you may feel helpful in the next session. The Steve Lockwood harmonica website can be found at www.steve-lockwood.com, it contains music, videos and backing tracks for a wide range of songs. There is a Youtube site at http://www.youtube.com/vacmusic which includes Steve playing with Larry Adler the great harmonica virtuoso as well as over 30 other harmonica videos with Steve. Other ways to keep in touch: follow me on Twitter (@harptuition); link up with me on Facebook (Steve Lockwood)
Please book well in advance for the workshops so we have the opportunity to choose the right location and repertoire for you all. These harmonica workshops can get booked up very quickly and there is a cap of 20 or 25 depending on room availability. Please pass this email on to anybody who may be interested in coming along to learn in a friendly and fun atmosphere.
One last thing, if you can't make the next session or would prefer a one to one with Steve (at his studio) on harmonica please contact using the info below, Steve also teaches via Skype over the internet for those who can't travel (search for harptuition).