This audio CD/download uses a variety of Lee Oskar harmonica harmonicas in various keys



Spark-spitting, genre bending nu-blues–country-rock'n'roll-soul….Steve Lockwood, singer, songwriter & instrumentalist, has spent 30 years and 4,000 gigs testing the boundaries of harmonica playing and creating songs which make you dance, make you think and make you  move.
Between the Tracks showcases stories and themes from Steve's extraordinary career as a frontman, singer and songwriter, from busking on the streets of Cambridge to recording with a symphony orchestra.
Steve says "For me this album is a journey. It's eclectic because I love so many different types of music, but the unifying theme is travelling:  going out, searching for something, for the thing you need, and when you find it, bringing it home."
Steve has packed a huge amount into his career as a singer and harmonica player, touring round the world with his own bands and performing with acts from Larry Adler to Screaming Lord Sutch and Chris Difford.  As an in-demand session player, he has recorded with both the Royal Philharmonic and Prague Philharmonic Orchestras.
While 4,000 gigs and 100 albums speak for themselves as a tribute to Steve's ability, in the 1990s Steve decided to study for a degree in music and graduated from Anglia Ruskin University Cambridge, specialising in harmonica.  He now combines playing and touring with teaching and mentoring new artists.
Steve Lockwood has played on over 100 albums but Between the Tracks is his first solo release. "I have no fear of crossing musical boundaries," says Steve. "Every track on the album is different. It's a musical variety box with something for all tastes, from dark-centred trip hop to the smooth Caramel."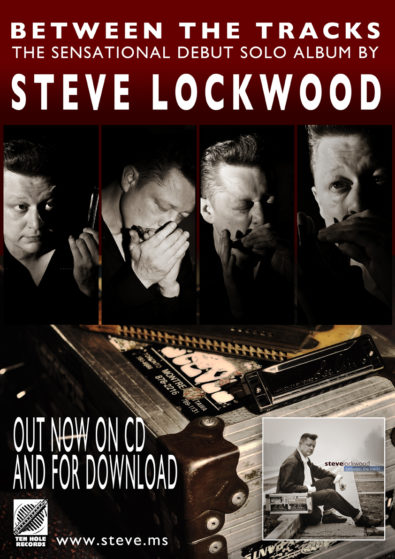 'Between the Tracks' reviewed by Richard Archer – The Shivers
Train Calling
I like the arrangement on this – banjo, fiddle etc. It reminds quite a bit of how JJ Cale would open an album ("Call Me the Breeze" etc). I think it's a great idea to open with the solo harmonica as it kind of sets out the stall and says whose album it is!
Travellin'
Very Chicago-blues sounding. A good tune. Nice to give the electric guitar a brief moment to stretch out but I also like it being reigned in too.
Caramel
This is very beautiful tune which I could almost see being a jazz standard for future generations. It makes me think of tunes like "Autumn Leaves". It's also a tune that creeps up you a little bit which I quite like – you don't notice how far into the song you are as a listener. It's very subtle!
I Like To Move 
An unexpected diversion when you consider the style of the rest of the album. I wasn't expecting to hear any reggae. It's a nice song with an odd middle section. I like the arrangement – the trading of riffs between the harp and fiddle in the solo bit of the song was a nice touch and brass sections are always pretty cool.
Cajun Twist
Ry Cooder-ish charm aplenty on this track. It's very moody, which always appeals to me and I particularly like the rhythm-heavy bit at the tracks end. You're playing the harp like it was the drums! Nice sharp ending too.
Milonga
This was unexpected too. It feels like Portishead but probably a bit lighter in touch, which (for me at least) is a good thing because I always found the trip-hop genre to be uncomfortable listening. I like the harp wailing on this one too– it reminds me of 'Once Upon A Time in the West'.
Like A Boomerang
A sunny tune. On this song only, your singing intermittently reminds me a bit of Paul Heaton (Housemartins)! Nice brass arrangement too.
Summertime
It's a very gentle arrangement this is – when the plucked strings enter and at various parts of the song, its sounds as if they might grow or swell to take over the arrangement but they never actually do which is clever. I like the opening harmonica licks which are frantic without being discomforting. It all flows beautifully.
I particularly like the spacey bit in the middle where everything stops but the harmonica – there something echoey lurking about in the background which gives it a proper atmospheric edge. It really is a fresh take on an old standard and I would say it is one of the best versions of this that I have heard. It also feels as though this is the centrepiece of the album.
Old Sage McGraw
Great piano playing on this track and a nice sneaky key change during the solo. Or at least I think there is!
Stonefox
This sounds like the sort of music that would have been used as the backing for early house music (i.e, when it was good). It seems like the most straightforward showcase or display of your technical ability on the CD and is welcome because there is a great deal of discipline on all of the preceding tracks and it's good to have some tracks which you lead definitively (Summertime is a definite showcase track too). The change in key is, like the previous track, seamless.
Intro 414
When I hear this I am reminded of all the quiet bits on Led Zeppelin albums (Black Mountain Slide etc). A lovely guitar riff that – probably my favourite guitar riff on the album. That sleepy kind of blues harp is my own personal favourite kind of harp too
Epiglitoris
A strong ending to the album
The whole album is fantastic –It just sounds very natural, well-produced and a great introduction to what you do.
I like the excursions into styles that don't normally associate with harmonica and they flow well with the more traditional blues and jazz numbers. It's also a fantastic showcase for your supporting musicians, who have brought a great deal of their own personalities to the mix.
My favourite tracks are 'Caramel' (which I'm now thinking that in another arrangement could even sound like Nat King Cole!), Cajun Twist, Summertime and Intro 414.