This audio CD/download uses a variety of Lee Oskar harmonica harmonicas in various keys



"The important thing is to feel your music, really feel it and believe it" Ray Charles (musician)
'Live At The Bank' is three consummate musicians believing and feeling a compilation of some of their favourite tunes, from jazz and blues through to country and rock 'n' roll. It is a throwback to the era of live musicians playing their best and capturing the performance 'as heard' on the day. Recorded entirely on location, in one take and with no overdubs or additions, this album in many ways reflects the values and traditions of the era of many of its compositions.
Harmonica virtuoso Steve Lockwood has been playing for over 30 years, and he met Ed Graham 10 years ago when Ed knocked on his door to learn harmonica. Ed would often drop hints that he also played piano and eventually Steve invited him to join him on a gig. The result was electrifying and they have been playing together both as a duo and with larger ensembles, traveling around the UK doing gigs and harmonica workshops. One trip included Ed and Steve teaching 200 people at a conference in Monte Carlo. Ed not only plays meticulous piano grooves with a deft touch but also combines this with foot percussion and backing vocals, and he has been known to play counterpoint harmonica at the same time. It is like having several musicians in one incredible action-packed individual.
Dave Lockwood was introduced to the duo in 2015. It is not easy to join an established act, but Dave Lockwood amazed everybody with his tasteful, subtle touches in supporting parts, contrasted with soaring melodic solos over blues — how amazing a guitarist can be when he has talent, taste and startling technique! Steve, Ed and Dave are all experienced players and improvise with ease in any genre, from sophisticated jazz and tight funky grooves, to pop and country — the after-gig compliments are always shared out over the whole group.
The music on this album brings together instrumentals and vocal numbers, captured expertly by Dave Lockwood in high-resolution multitrack format and then mixed down with a minimum of studio processing — the tonality of the instruments and the dynamics are those of the players on the night. Rarely does a live album live up to the actual experience of 'being there', but you can almost feel the delight and excitement in the room as all three of these top professionals deliver at the top of their game. On this occasion, three stylish musicians were able to combine with a stylish venue in the form of 'The Bank' in Willingham, Cambridgeshire. Originally a financial bank, it has recently been refurbished as a traditional village micro-pub. The Bank's audience were all very much part of the event and listened intently to every mouth-watering note.
Interest at the Bank
The concert took place on 24th April 2016, with an afternoon and an evening show, organised by Bank proprietors Chris and Linda Warren with Steve Lockwood. The evening concert was sold out three months in advance with the lunchtime gig soon after, and this album combines the best songs from both shows recorded on that day. It all started with equipment load-in at 09:30am and finished at 10:30pm, 13 hours later — a long, tiring, but ultimately unforgettable day for all those who took part.
Line-up
Steve Lockwood: Harmonicas, vocals
Ed Graham: Piano, percussion, backing vocals
Dave Lockwood: guitar
CD and poster design – Matt Edwards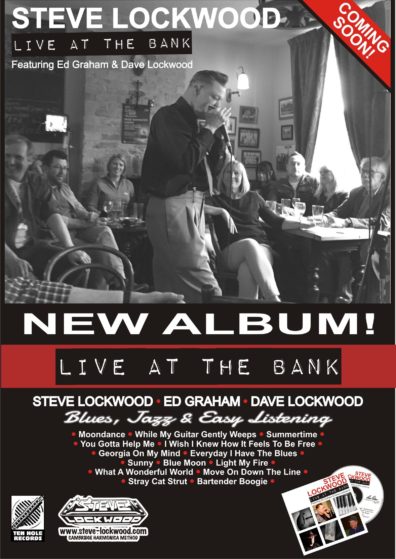 Photos supplied by:
Front Cover
Guitar, Harmonica & Piano – Steve Lockwood
Ed Graham – Jonny Slater
Steve Lockwood – Oliver Cross
Dave Lockwood – David Thrower
Back cover
Steve Lockwood – Graham Losh
Inside cover
Group shot one – Oliver Cross
Group shot two – Neil Barker
Steve Lockwood – Oliver Cross
Recorded live at The Bank, Willingham, 24th April 2016
© Ten Hole Records
Engineered and mixed by Dave Lockwood
Recorded entirely 'on the night' with no overdubs or additions.