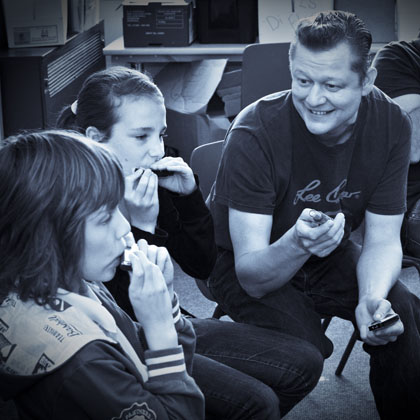 Steve Lockwood has a way of teaching the harmonica that feels both natural and professional. His British charm and years of experience, combine to create a comfortable learning atmosphere for novices, intermediates and professionals alike.
Through proper form and function, to learning tips and tricks you would never have expected; Steve will guide you through all of the capabilities of this classic and powerful instrument, the harmonica.
Even if you have never played the harmonica before; after only a single session, Steve Lockwood will help you learn foundation breathing technique and proper mouth positioning which will help you kick start your harmonica adventure.
Read what some of Steve Lockwood's workshop attendees and students have to say about his teaching process below.
"Steve is a superb musician and harmonica player and – wait for it – an even better teacher! This combination means this workshop is priceless."
Dr Stephen Peake, Senior Lecturer, Open University, Fellow of Judge Business School, Cambridge University
"Inspiring and engaging – love it. I have learned and enjoyed"
Workshop attendee, BBC Radio DJ, Sue Marchant
"Friendly and not too difficult. Good way to start my new musical career!"
Workshop attendee, Mark Lonnie
"Steve's virtuoso harmonica playing, energetic 'can do' leadership style and consummate teaching skills combined to deliver a hugely enjoyable and thoroughly inspiring workshop; our students are still buzzing."
Dr Hazel Fairbairn, Lecturer in Music Performance, West Suffolk College, UK
"Having never picked up a harmonica before I was very nervous but the fact that nobody else had any experience also lifted my confidence a bit………….. The next confidence booster was our teacher's attitude. He was very enthusiastic and made lots of jokes but still retained a professional and firm role. By this, I mean he made sure we all felt good about what we were doing and that we were all having fun but still made sure that we didn't waste time and that we were still effectively learning the harmonica……………He also made us all leave with a smile on our face and new skills and influences under our belts."
Harmonica Workshop – Student Feedback
"Just to say thank you. It went well earlier this evening, I had butterflies like mad about an hour beforehand, but they went away before I actually got up to play. I really enjoyed it, and loads of people came up afterwards to say how much they liked it. You've given me something I'd never dreamt of doing, but I know now that I'll do it again."
Private student, Darren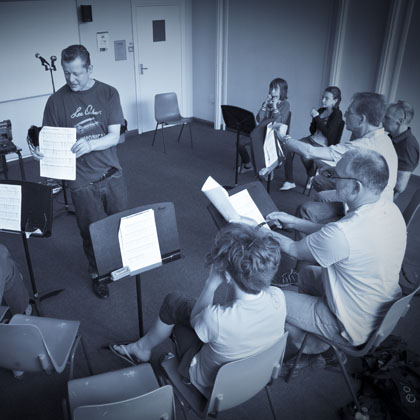 "A pleasure to be taught by a playing professional."
Workshop attendee, Phil Hobbis
"Fantastic way to decode the instrument – great encouragement to go further."
Workshop attendee, Clive Quick
"I just wanted to thank you for your first few teaching sessions with me. Very enjoyable and I have learned a great deal. All credit is due to your teaching style – as an ex teacher/trainer, I suppose that I can speak with some degree of authority. I have been particularly impressed with your use of technology in your sessions. Being able to take home a CD recording each time has enabled me to practise and consolidate in my own time and at my own pace. I've a lot to learn, I know, but I'm filled with enthusiasm."
Private student, John Boddington.
"From a zero base, I progressed to understanding and playing a pleasing Blues solo."
Workshop attendee, Ed O'Connell
"Amazed how much progress in four hours, thanks for the inspiration."
Workshop attendee, Gary Cambers
"The Harmonica Saturday workshops at Cottenham Village College run regularly throughout the year and have grown in popularity. The success of this fun day is due to the enthusiasm of our professional tutor, Steve Lockwood and of course the adventurous students who enroll to learn how to play this incredible instrument."
Janet Drinkwater, Adult & Family Learning Manager